Rep. Sue Austin and Lorraine Glowczak
By Lorraine Glowczak
To better inform myself of the procedures and daily activities during the legislative sessions, I've asked the Raymond and Windham delegates if I could shadow them for part of their day. They all responded immediately with open arms.
It is my hope that by sharing my experiences, I can "bring" a visit to those who are unable to travel to Augusta and watch their legislators in action. It is here I will do my best to communicate the day to day policy-making intricacies of those we elected to serve us in Augusta.
My first legislative adventure was last Thursday, February 28 where I spent the morning with Rep. Sue Austin (Republican. District 67 that includes portions of Gray, Raymond, Casco and all of Frye Island). "Dear Lorraine.
Why don't you come to the State House by 9 a.m. and check in at the Republican House Office on the third floor. We have caucus from 9 a.m. to 10 a.m. prior to morning session in the room right beside the Rep. House Office. I will be able to spend some time with you from 9 to entering session shortly after 10.

You can visit in the Gallery during Session so you can see information and paper flow through the day's work at hand," Rep. Austin stated in an email communication between us.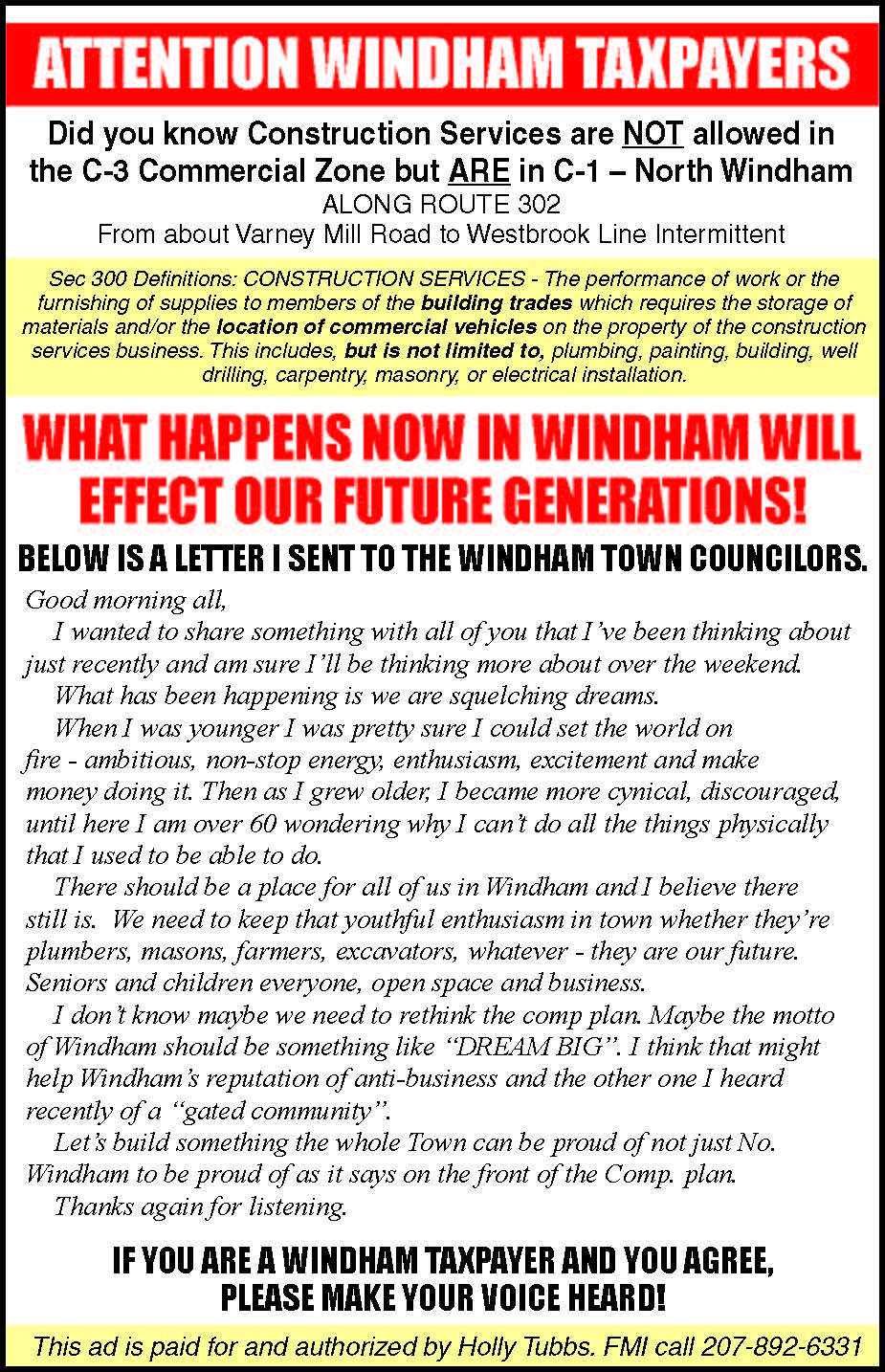 I arrived on time, but the caucus had a special guest speaker and was closed to the media. As a result, Rep. Austin had only a few moments to speak briefly before the House session began at 10 a.m. "You are beginning to see how things go here on a daily basis," she began. "The process has more control over us than we do of it. As a legislator, you must always be flexible because the day's agenda changes quickly. Let's meet after the house session so we can talk." Then she asked if I wished to join her at the Women in Government Luncheon that was being held at the Maine State Library.
I was then introduced to one of her legislative aides, Ryan Lorrain, who escorted me to the gallery where I had the opportunity to see the session in process – or as Rep. Austin stated in her email "the paper flow" of the day's work that include the bills being considered in the various committee meetings. The morning's house session seemed to occur at lightning speed.
Once the session was over, Rep. Austin and I had an opportunity to talk without interruption for about a half hour. I asked her about the meeting that occurred at the morning caucus. "There was a presentation from representatives of CMP regarding the transmission line proposal. It was all very interesting, and I learned a lot but there is going to be a lot of ups and downs on this issue."
When I asked her thoughts on CMP's line proposal, she stated it was too early in the process for her to say. "It's not that I don't want to state an opinion, but one needs to be aware of the language that is used in certain bills and proposals," she explained. "One word added or replaced can change the meaning of a bill, making it completely different than when the bill first began. It's always wise to know the bill to the best of your ability before you form an opinion."
(NOTE: After this conversation on Thursday, we have spoken since and she clarified for me that there will be no actual vote on the CMP proposal. "We are still getting public feedback on the CMP proposal and listening to constituent concerns overall, but CMP does not need a bill or our vote to do this.")
Rep. Austin also stated, "With bills, I am always cautious about responding whether I do or do not support them ahead of time because we never know the final language until the committee's work is finalized and it comes to the Chamber for a vote."
I also learned from our discussion that she is member of the Business Committee as well as the Labor Committee. "These committees were once a combined committee, so when they were made into two separate entities, I was assigned to both."
She is always open to and receives calls from her constituents. The one recent issue that is brought to her attention the most is regarding the bill, LD 798 – "
An Act To Protect Maine Children and Students from Preventable Diseases by Repealing Certain Exemptions from the Laws Governing Immunization Requirements."
Briefly, the current law allows exemptions from immunization requirements based upon religious or philosophical beliefs for students. LD 798 would take away that exemptions.
Rep. Austin stated that she is for the parental right to make the best healthcare decision for their children.
On our way to the Women in Government luncheon that included a webinar session with other women legislators from across the nation, Rep. Austin was stopped by a colleague to have a brief meeting on an issue they needed to discuss prior to committee meetings. This delay caused us to miss the webinar portion of the luncheon, but we did get an opportunity to speak with other house representatives.
I personally met and had lunch with Senator Susan Deschambault from Biddeford as well as Rep. Amy Arata of New Gloucester.
Once the luncheon was completed it was time for the afternoon committee meetings and time for Rep. Austin and I to part. My experience with her was about three hours and it felt like an eight-hour whirlwind. From her, I learned that an elected official must be flexible and on your toes at all times. But perhaps more importantly, the linguistical nature of bills and the language used is so complicated that the use of a lawyer is often needed.
After saying my goodbyes to Rep. Austin, I then connected with Rep. Jessica Fay. Stay tuned next week for my political adventure with her.