By Daniel Gray
As of July 1, shoppers in Maine will
no longer be issued single-use plastic
bags by local businesses to help
reduce plastic waste in the state.
Retailers are being encouraged to
sell recyclable or reusable bags for
their customers.
PHOTO BY ED PIERCE

As of July 1, single-use plastic bags that have been used by businesses such as grocery stores, retail shops, and restaurants will no longer be provided across the state and here in Windham and Raymond.
In 2019, the Maine Legislature passed a measure to eliminate single-use plastic bags to reduce plastic waste in the state. But because of the COVID-19 pandemic, this effort to fully implement the initiative was scaled back for health and safety reasons and is now resuming for area shoppers and businesses.
Any retailer in the state has the option of providing any form of carry-out bags, however these must meet requirements for being a recyclable bag or a reusable bag. These requirements also apply to shoppers if they choose to bring in their own bags.
There are two options for retailers and shoppers – recyclable bags or reusable bags.
According to Maine law, recyclable bags must be 100 percent recyclable and contain at least 20 percent of previous recycled materials. Recyclable bags must also be able to hold at least eight pounds of materials.
Reusable bags must be designed to be reused and withstand 75 repeated uses, be properly sanitized, and have a capacity to hold up to 18 pounds of materials.
Locally, shoppers are being encouraged to provide their own reusable or recyclable bags, since any bags that stores will offer will have a 5-cent fee or more imposed for the bags provided.
Hannaford, for example, will instead be offering paper bags to customers with the state's minimum 5-cent fee collected.
According to Eric Blom, Hannaford's Director of Community Relations and External Communications, the company will also sell reusable bags to shoppers who want them.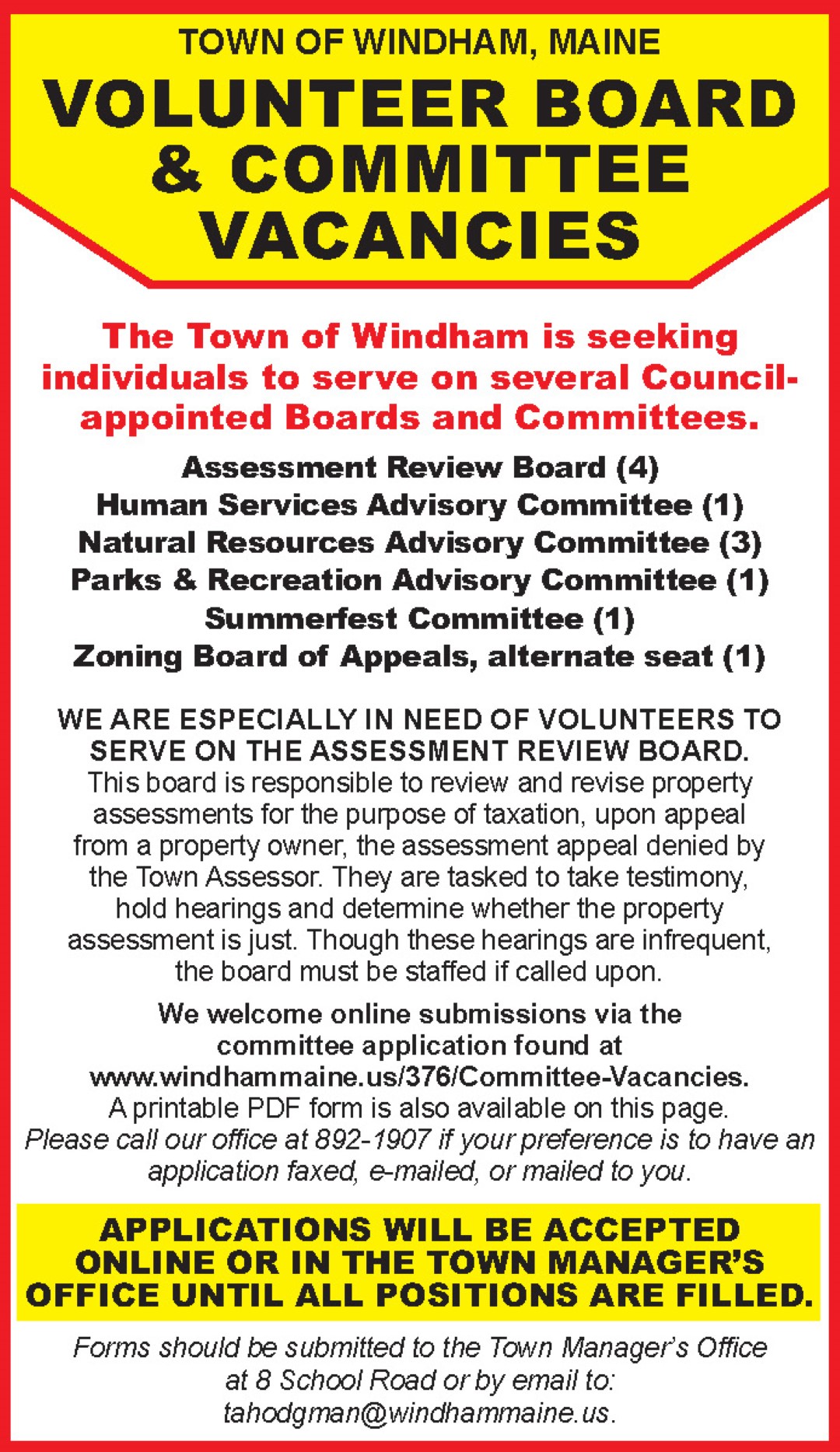 "State law requires that we charge at least 5 cents for each paper bag used, and we are charging that minimum allowable amount, 5 cents per paper bag," Blom said. "We offer a variety of durable, reusable bags and sell them near our checkouts."
Blom said Hannaford will remain in compliance with the law.
"We are committed to reducing plastics in our stores, and this law supports that," he said.
Two Windham residents who support the plastic bag ban, Branden Paul Ananis and Jason Libby, shared their thoughts about the law.
"My wife and I were both happy to hear about it," Ananis said. "We have tons of plastic shopping bags that we have kept after shopping, and even though we use some of them for small trash cans, even if we can use them for something, eventually, they all end up in a landfill and will never decompose."
Ananis said that he appreciates environmental efforts like this.
"As I get older, this worries me: especially when I see what happens when they end up negatively affecting wildlife and the landscape," he said.
Libby's views were similar to Ananis, saying that he was glad that Maine continued the ban following the pandemic.
"It was nice to see my state getting on board with making a positive change," Libby said. "Microplastics in the environment are a looming environmental disaster that none of us can escape and acting now to start to limit the problem is a good thing."
However, there are some who are not happy with the mandate and prohibition of single-use plastic bags.
Justin Howe, originally from Windham and now living in Gray, said that he has opposed the plastic bag ban for a while now.
Like many other residents, Howe said he would reuse the bags for trash bags and insists there were other uses for the bags despite the single-use label hung on them.
"I've been against the bag ban since I first heard of it," Howe said. "I reuse the bags for trash bags, so now rather than reusing bags I'll be forced to buy trash bags."
Howe said he also believes that the law was undermined with many residents not aware of the fact there would be a mandated plastic ban until June, despite the mandate launching originally in 2019.
He said that the sudden change from no reusable bags in 2020, then only being allowed to use reusable bags in July 2021 confuses and irritates many. <